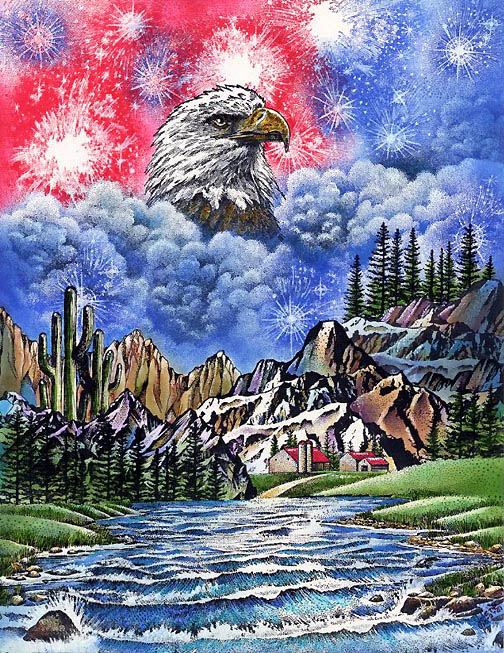 God Bless America by Jolene Meyer, Illinois 10-2-01
Tribute Piece -September 11, 2001-

God, please bless this land of ours, from sea to shining sea. Our snow-tipped mountains, our deserts, rivers, farmlands and grasslands, our forests reaching high into the sky.
Please dear God, shed your divine light on these our landscapes and Americas people.

original dimensions: 8 1/2" x 11"
Images: Eagle by Stamp It, Desert by Stampa Rosa Curvilinear Road, 145F, Farm 176C, Cloud cumulous 019G, Tall Peak 182G, Rocky Peak 188F, Seaside Cove 139H, Waterside Bluff Right 149F, Waterside Bluff Left 148F, Nebula w/ Star 114G, Pine Row 150E, Tonal Applicator 084E
Inks Used: PrintWorks, Archival, Marvy Uchida
Also Used: Ranger Cut N Dri Nibs and gel pens