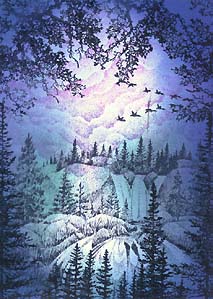 "Moon Glow" by Lizette Ortega, CA 1998
Images: Oak Branch 203G, Cascading Falls Lg. 015G, Pine Tree 196F, Ducks in Formation Lg. 028B, Tree Duo Lg. 086B, Cloud Bar 119F, color application done with the Tonal Applicator 084E.
Note: Lizette made this card while in the 8th grade at Bell Gardens Intermediate School. Carlos Ocaņa instructor.