Nature Sheet 11 (Palms with Huts Sm.)

PALMS WITH HUTS SM. 310E (2" x 3" version), PALM ISLAND 120F, HOT SUN 285E, FROND #2 137C, FROND #3 138C, ROW BOAT 166A and FLOCK 112A.


Nature Sheet 11 is approximately 8.5" x 5.5". Stamps are assorted sizes. 7 Stamps. Options below. Choose from Unmounted (untrimmed rubber-only sheet or pre-trimmed, cling foam mounted on a plastic storage sheet)

For international orders outside of the U.S. for a cheaper shipping (than Priority International used in the secured Paypal shopping cart) option of First Class, email stampscapes@gmail.com and we'll invoice you with First Class.
---
---
Full Nature Sets 1-29 option. Unmounted untrimmed sheet option a $536.50 value for $399. Pre-trimmed cling foam mounted option a $768.50 value for $569.

---
Set insert front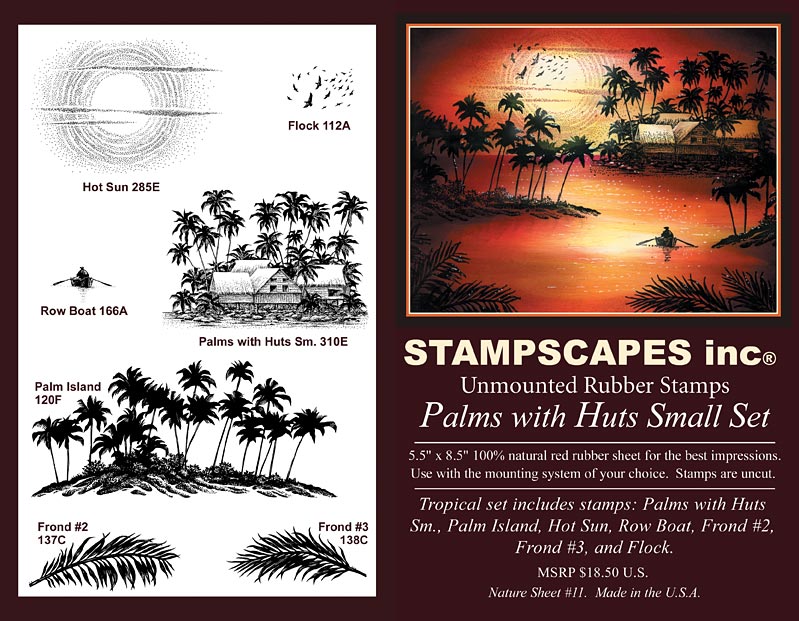 ---
Set insert back

---
Samples


---