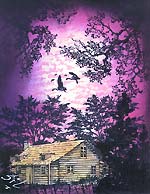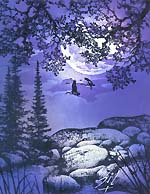 "Enchanted Grove Triptych" by Silvie Waals, 1997
Media: glossy paper, dye based colours.
Note: Had a chance to stamp with Silvie while in MD. She has a terrific sense for composition and color with a great command of the Tonal Applicator. Very free flowing scenes.
Stamp Credits: From Left to Right. Scene 1) Brookside Boulders 185G, Sun (Wavy Rays) 204G, Duck Trio in Flight 023A. Scene 2) Cloud (Alto cumulus) Lg. 194G, Cabin Lg. 141G, Geese in Flight 039A. Scene 3) Brookside Boulders 185G, Cloud with Rising Moon Lg. 198G, Pines with Rocks 195G, Reeds Lg. 068D, Geese in Flight 039A. Oak Branch 203G was used as an overhanging limb in each scene and the Tonal Applicator 084E was used to apply the transparent colors of the dye based inks. All designs by Stampscapes®.